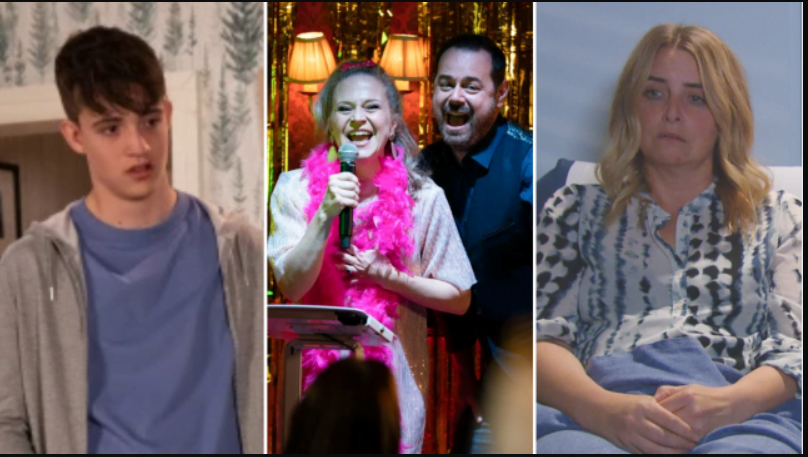 As secrets are uncovered and tragedy strikes, feelings are on the rise in soap opera land during this dramatic week.
Aaron opens up to Summer Spellman on Coronation Street, while Charity Dingle and Mackenzie Boyd in Emmerdale receive heartbreaking news regarding their unborn child.
Meanwhile, Mick Carter returns to EastEnders after a lengthy absence, and Janine Butcher is less than thrilled to learn that his chemistry with Linda is still as strong as ever.
You cannot defy destiny. Janine
Will Liberty Savage survive the out-of-control feud between Sienna Blake and Warren Fox over in Hollyoaks that puts her life in danger?
Here are just a few of this week's must-see scenes from our favorite soaps, who are about to experience yet another tough week.
Audrey opens up in Coronation Street
The entrance of Claudia and Charles into the hotel dining area catches Audrey's eye. As Claudia and Charles argue, Rita, Audrey, and Ken suddenly emerge from their covert listening position. Claudia is shocked to see them. Rita remembers Audrey's recent birthday as they console Claudia. Unexpectedly, Audrey confesses that she attempted suicide. The arrival of a server carrying a cake and singing Happy Birthday to Audrey breaks the startled silence.
Lewis kidnapped in EastEnders
Sam is about to leave the Square when Zack calls to tell her that he has located Lewis. Sam and Zack head out in a car to get Lewis while armed with the revolver from the Mitchell safe. Sam then tells Phil about what she did, and Phil is shocked to see the rapist restrained in the car's trunk!
Baby tragedy in Emmerdale
Charity feels a wave of suffering. She is taken into Mackenzie's arms and hurried to the hospital, where she learns that her pregnancy is ectopic. Mackenzie is devastated, and he and Charity are left to their thoughts. Charity appreciates Mackenzie's help, but it's clear that he's not doing as well as he seems.
Liberty in death danger in Hollyoaks
After Sienna tried to kill Warren, Norma is determined to remove her from the picture, so she asks an acquaintance dubbed the embalmer for assistance. However, Liberty finds herself in the fire line as Sienna falls to the ground, putting her sister in grave danger just as the embalmer enters the apartment.
When Warren discovers that Sienna is in grave danger, he is shocked and decides to save her. However, when he runs into her in the village, he realizes that Liberty is in danger of dying, so the two run back to the apartment.
Aaron's secret revealed – and Summer collapses – in Coronation Street
When Summer arrives at the garage, she discovers Aaron with a fat lip. He explodes when Summer questions him about his injury. Aaron apologizes to Summer and says that his father was the one who hurt him. Aaron reveals that his father is an alcoholic who sometimes gets angry. Summer then passes out, sending Aaron into a panic.
A sad goodbye in EastEnders
As Avery's funeral is beginning, the Baker-Taylor family is experiencing a difficult day. When Tara shows there instead of Felix, Mitch is shocked. However, at the wake, he realizes Felix did this for Avery and apologizes.
Charles attacked in Emmerdale?
When Naomi agrees to meet with Charles to discuss the situation at the church, Charles is relieved. However, Manpreet overhears a fight and witnesses an irate Naomi storming off. Charles is found unconscious, horrifying Manpreet. As Manpreet attends to her boyfriend, Harriet observes with worry. While this is going on, Naomi asks if Charles is alright, but Manpreet orders her to go and then compares her behavior to that of Meena.
Norma confronts Sienna and Warren in Hollyoaks
Warren and Sienna engage in a titanic fight with all of their cards on the table. Meanwhile, Norma has a proposal for them both.
Faye makes a pass at Michael in Coronation Street
Craig queries Faye about returning to his mother's house. He is given free rein by Faye. Faye makes a move on Michael later in the week, but what will he do?
Janine seethes as sparks fly between Mick and Linda in EastEnders
Linda's karaoke preparations for the evening are thwarted by Janine, but she realizes Mick wants the entertainment when he returns from his trip. Despite her best efforts, Janine becomes furious when Mick joins Linda for some karaoke.