Following the demise of the medical drama Holby City, David Ames is continuing his theatrical endeavours with the announcement of casting for Horse-Play.
Alongside EastEnders actors Jake Maskall (Stallion/Tom) and Matt Lapinskas (Villainor/Karl), David will play the roles of Butterfly/Tim.
Horse-Play, a comedy that had its world premiere at The Riverside Studios, addresses, how shall we put it, the kinkier side of life.
In the Andrew Beckett-directed film, Tom and Tim arrange to spend the night in a dungeon with a male escort in an effort to spice up their sexual lives.
The Stallion, a crime-fighting superhero, and his sidekick Butterfly have been drawn to the hideout of Villainor, their arch enemy.
Given the apparent connection between the two incidents, it should go without saying that it will be a night none of them will ever forget – and for the wrong reasons!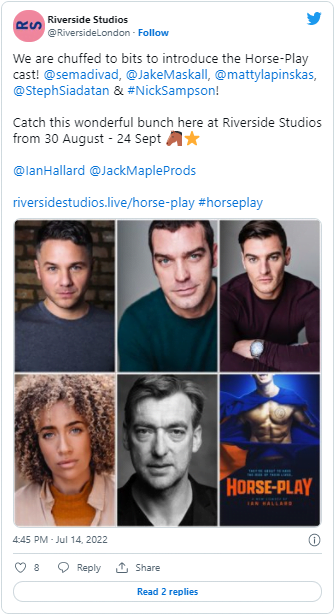 Nick Sampson and Stephanie Siadatan will be joined by David, Matt, and Jake for the August 30–September 24 premiere of the programme.
Tickets are available here.
David Ames told us how helpful it was to work on and play Dominic Copeland during the pandemic before Holby City was cancelled in March:
I was by myself throughout the first lockdown, which was quite difficult. It was difficult for me to just see people through a screen on my phone or laptop because I was dealing with a lot of family issues at the time. So having this work was a refuge to come to.
"We were working really hard at that time, but I had other people to talk to in the flesh, even if it was from 2 metres away and with masks on. Therefore, that was definitely unique.
In EastEnders, Matt Lapinskas played Anthony Moon; most recently, he played Alex in Hollyoaks.
In the early 2000s, Jake Maskall mostly made an appearance in the BBC One soap opera as Danny Moon.