In EastEnders, Steve McFadden's Phil Mitchell has done the unthinkable by providing DCI Samantha Keeble with a statement about Billy's (Perry Fenwick's) role in the notorious warehouse raid that killed her father.
This week's highly praised flashback episode of the BBC One soap opera, which filled in many of the blanks around Keeble's hatred of the Mitchell family, was a gift for fans.
Billy accompanied Eric and his kids Phil and Grant on their first shady job back in 1979. But things went wrong, and Eric wound up killing a security guard who happened to be Keeble's father.
Keeble believed Billy was at fault since new information indicated that Billy had obtained the gun used in the murder, thus she urged Phil to come clean about him.
The hard-man had a lot to consider in the serial drama's episode from Tuesday, September 6, but Keeble wasn't going to give him much time because she threatened to have Kat Slater (Jessie Wallace) arrested if he didn't cooperate.
Despite Keeble's threats, Phil managed to hold his own, but when the detective followed through and had Kat detained by a number of law enforcement officials, he was forced to comply with her demands.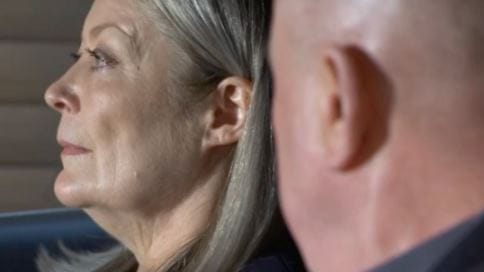 Phil confided in Kat in poignant circumstances, telling her about the situation he finds himself in.
While Kat was sympathetic and deeply moved by his decision to put her protection above his Mitchell code, she was appalled to learn that he had given Keeble a statement concerning Billy's role in the warehouse raid.
While Kat reiterated that his actions might put his cousin in jail, Phil believed he would be able to retract his statement before it was presented to the court.
If this happens, Phil warned, he won't have much of an option but to kill Keeble, calling her a "dead woman."
Will Phil actually carry out his threat? Will poor Billy also be punished for a crime he didn't even commit?