Summer Bay has long been a haven for Home and Away stars looking for love.
Bec Hewitt (nee Cartwright) and Beau Brady, Luke Mitchell and Rebecca Breeds, Chris Hemsworth and Isabel Lucas, and married couple James Stewart and Sarah Roberts are among the Home and Away stars who have wowed fans by dating off-screen.
Sophie Dillman and Patrick O'Connor have quickly become one of our favorite couples of all time.
But, unlike many of their fellow lovebirds, Sophie and Patrick met before moving to the fictional small town.
"We actually knew each other at university – we went to acting school together years ago," Sophie, 29, said in March 2021 on The Morning Show.
"We were friends back then, but we were in different years, so we didn't see each other much until we ran into each other on the show. And, coincidentally, our characters met on the show."
Sophie and her real-life boyfriend Patrick's on-screen characters Ziggy and Dean's heartbreaking break-up scenes aired in September 2020.
While many fans struggled with their split, Sophie says they were able to separate the fictional storyline from their personal lives.
"We're both actors by trade, so our goal was to do the best work we could, and we were very proud of ourselves," she explained.
The couple, who were both born in Queensland, now live in Sydney and have been working together on set for years.
While it's easy to imagine TV stars leading glamorous lives, Sophie says her favorite dates with Patrick are surprisingly low-key.
"I enjoy a home-cooked meal. Coming home after a long day at work and finding my partner has cooked dinner is my favorite thing in the world "Sophie revealed this to Now To Love in early 2022.
"He's a fantastic cook. We've shared some delicious meals."
She even admitted that they, like all couples, have their moments, especially when it comes to things like long car rides together. They try, however, to be on their best behavior for one another.
"Patty and I are extremely fortunate; we've taken several road trips together and seem to do fine. I don't believe we've ever had any major fights "She burst out laughing.
The couple's good times spill over into their social lives, and they're never afraid to share lighthearted selfies with their followers.
Patrick borrowed Sophie's sunglasses for one last sunkissed photo before the couple returned to Australia.
These lovebirds look stunning in the European summer.
Sophie soon followed with a photo from the same outing.
In July 2022, the couple jetted off to Europe, where they soaked up the sun in Greece and took this adorable couple selfie.
Mykonos is ideal for them! As do their matching sunglasses.
Patrick shared a series of adorable couple photos with a touching caption for Sophie's 30th birthday on July 2, 2022.
"Baby, happy birthday! To the moon and back, I adore you! Here we go with the dirty thirties "He wrote something.
Sophie and Patrick, ever the low-key couple, enjoyed a casual Italian dinner with family and ended up twinning in matching black outfits.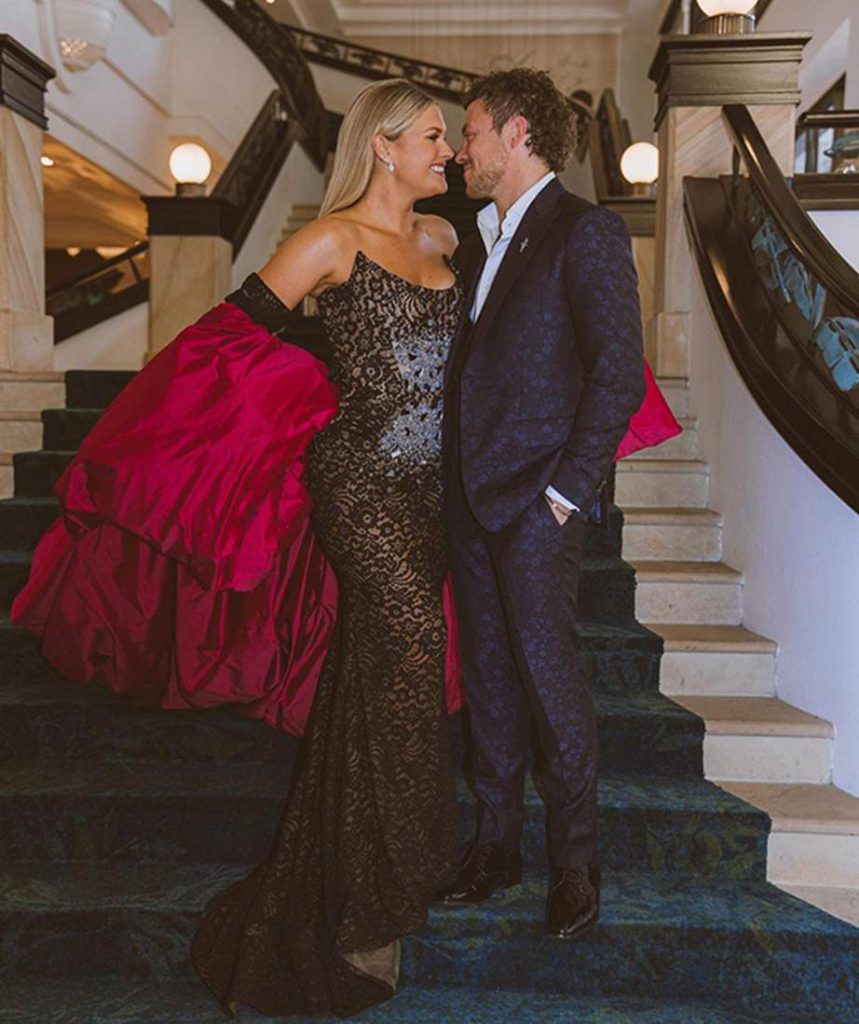 Sophie and Patrick couldn't have been more in love as they made their way to the 2022 TV WEEK Logie Awards in June.
If there was an award for "best dressed couple," we'd definitely give it to these two!
Taking advantage of a break from filming, the adorable couple went on a vacation together in April 2022.
Patrick had previously shared this photo with the caption: "My numero uno in melbourno."
This lucky couple also gets to spend a lot of time together at work, with Sophie sharing a photo of herself and Patrick on set for Home And Away… if you can call this stunning beach backdrop a set.
Sophie and Patrick shared this happy snap from a January date night, and we have to say 2022 is off to a good start for the couple.
I'm dressed to the nines! We're not sure what's going on in this photo, but it's certainly stylish.
Sophie shared this happy snap with the caption "HNY!" as the couple rang in the new year together.
What a relatable situation! Patrick captioned this silly photo of Sophie, "She's secretly a ballerina."
"Happy birthday, young gentleman! You brighten everyone's day. ❤️❤️❤️, "Sophie wrote a letter for her beau's wedding.
These two Queenslanders enjoy water sports.
Date night in a classy Sydney establishment!
Patrick wrote this touching tribute for Sophie's birthday: "Happy birthday to my number one, so proud of you and couldn't imagine doing this crazy life without you, thank you for everything xx."
They're happiest near a beach, but not as much as when they're together.
"That's amore bro."
Date night at the races!
Just some silly facetime between the two…
Taking their relationship to the next level! In March 2021, the couple welcomed a perfect puppy named Winnie into their family.
We enjoy watching this vibrant couple crack jokes both on and off screen.
"Fortunately, Ziggy and Dean are very different from Patty and Sophie," the actress said of their off-screen dynamic.
"We started out as work buddies, which has helped us work well together now, so we're fortunate in that regard. It's nice to have a friendship-based relationship. We are best friends first and foremost, and we treat each other as such, but it has also strengthened our relationship to begin with "The actress has pondered.
Patrick has said of his leading lady, "I think Sophie's an amazing actress, and it's a good feeling on set to know you're comfortable with each other."
Patrick shared this sweet beach selfie with his girlfriend in the days following Christmas, ringing in the festive season with the loved-up couple.
During lockdown 2020, Patrick shared this photo with the caption, "dreamin of simpler times."
If the shoe is correct! Sophie and Patrick are not afraid to have a good time.
The couple experienced festive fever during the Home and Away Christmas special.
When life imitates art: the characters of Patrick and Sophie Dean and Ziggy's relationship is complicated.
The look of love!
We can't blame these two for being attracted to each other with rigs like that.
There's nothing like a little country air to bring these two together.
"She's trying to keep me from getting on the horse," Patrick joked at the races.
Sophie admits that steamy scenes can be awkward at times.
It's all about matching! Patrick looks right at home with Sophie's family in this Christmas outfit.
Patrick joked that he's always capturing Sophie's best side.
Just another day at work!
Patrick captioned this photo, "Beauty knows no bounds."
These two looked great at the 2019 TV WEEK Logie Awards.
We'll just leave this one here…
Ah, young love.