In a new Home and Away promo, we get our first look at new character Heather, while also learning more about Marilyn's big secret.
Scroll down to see the entire promo.
During the Commonwealth Games break, a recent promo for the show showed Marilyn Chambers (Emily Symons) receiving a mystery letter containing a photo of a newborn baby and the words "Guess who?" written on the back.
Our previous article speculated on what this could mean: is Marilyn's baby Byron still alive, or did Maz conceive a child during one of her many overseas trips over the years? Or is there a more unusual plot in store, with someone attempting to dupe her?
The new promo, which aired following Wednesday's episode in Australia, has now provided us with another clue to Marilyn's mystery.
It introduces us to Heather, played by Sofia Nolan.
Sofia has previously appeared in Drop Dead Weird, Kiki and Kitty, and most recently as Taylor Emerson in RFDS: Royal Flying Doctor Service, and her arrival in Summer Bay is set to turn more than one world upside down.
Heather appears to know who Marilyn is, and while Maz may play innocent, it appears that she also knows who Heather is.
Heather and Roo (Georgie Parker) sit together at the diner, and we see them interact. It appears safe to assume that Heather is Roo's first student in her new career as a private tutor, but has she hired Roo for her teaching skills or simply to get closer to Marilyn?
"Have we met before?" Heather inquires of Marilyn. "I don't think so, no," a slightly nervous-looking Maz responds.
Heather then states unequivocally that there is more to this story.
"How strange," she observes, a wry smile on her face. "You're just so familiar to me that I can't put my finger on it."
Marilyn then appears in the diner kitchen, a panicked expression on her face. Is her past finally catching up to her?
The promo doesn't specify whether these events occur before or after Marilyn's cryptic letter, but they are almost certainly related. Is Heather Marilyn's hidden child, or is there something else going on?
Sofia had been seen filming with Kawakawa Fox-Reo, who plays Nikau, on a regular basis, leading some fans to speculate that Heather and Nikau might end up dating after Bella's departure.
Fans appear to have been correct, as the promo shows the couple meeting at the beach, growing close, and finally kissing.
Heather approaches Nik, who is on life guard duty, on the beach for the first time.
She introduces herself by name in another scene.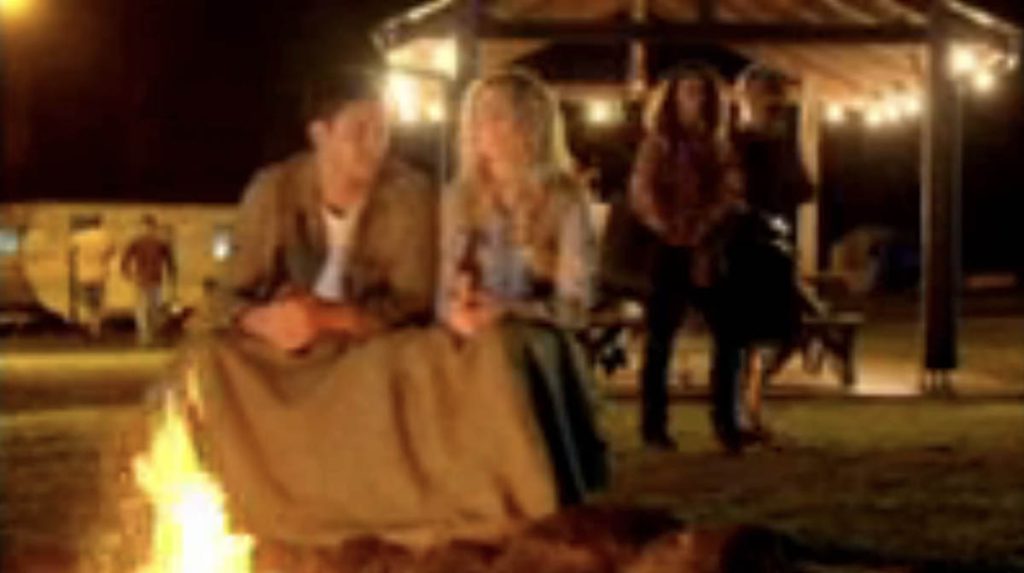 It doesn't take long for them to grow close.
We see the couple sitting and chatting in front of a campfire under a blanket at the caravan park.
"That's new," Roo remarks, surprised to see Nik with another girl so soon after his split from Bella (Courtney Miller).
Marilyn has a worried expression on her face, as if she's tired of running into this newcomer all over town.
Later in the video, the young couple kiss. Nikau appears to be ready to move on with someone new.
With romance on the horizon, Heather appears to be staying. It remains to be seen how much trouble she will cause Maz!
Heather, a newcomer, is also set to have a major storyline with Cash near the end of the year.
Nicholas Cartwright first revealed Sofia's character name as Heather in an interview with CelebTime earlier this year, while also confirming that "[Cash] is going to film a big storyline with her soon."
Happiness is also shown for a number of other characters in the "Home is where love is" commercial.
After several failed attempts, Dean (Patrick O'Connor) and Ziggy (Sophie Dillman) finally embark on a road trip together.
"Run away with me," Dean says, strapping a surfboard to the roof of his car. As Ziggy woops, "let's go!" we see the excited couple fasten their seatbelts.
We know the couple has a big storyline coming up as Ziggy becomes pregnant – could their trip be the catalyst for them to take the next step in their relationship?
The trailer also shows Justin (James Stewart) growing close to the members of the Lyrik band as he joins them for a party at their new home.
Justin is set to fund the band later this week, after Remi (Adam Rowlands) spent all of their savings on a shady van.
Justin will join Felicity (Jacqui Purvis), Tane (Ethan Browne), Nikau, Theo (Matt Evans), and the established band members – Remi, Kirby (Angelina Thomson), and Eden (Stephanie Panozzo) – for drinks and a jam session on the veranda.
He even gets to show off his own guitar skills as he plays along with doting girlfriend Leah (Ada Nicodemou).
The promo also shows Theo and Kirby exchanging longing glances.
After things between Kirby and former bandmate Bob (Rob Mallett) turned sour, fellow band members Remi and Eden quickly shut things down, banning interpersonal relationships among band members.
Will they succumb to temptation again in the coming weeks?
We also see Cash's distress after learning that he shot and killed gang member Marty (Ben Wood).
In the most recent Australian episode, he admitted to new doctor Bree (Juliet Godwin) that he's still struggling to accept what he did. "A man died as a result of my actions." "How am I supposed to live with that?"
"My brother is disappearing in front of my eyes," Flick laments, concerned about her brother's deteriorating mental health.
"Remember, I love you," she says assuringly. Will her love be enough to sustain him?
Rose (Kirsty Marillier) is also reeling from the recent drama, as it was her plan that led to Cash's death.
On the beach, we see her hug half-brother Xander (Luke Van Os), and in upcoming episodes, Rose considers leaving Summer Bay.
The trailer also shows Dr Bree Cameron enjoying a surf back at Summer Bay outside of Northern Districts Hospital.
Bree, like all new faces in the Bay, has more to her than meets the eye, and she has her own story and past that viewers will see unfold in the coming months.
Juliet Godwin described her character as a "laidback, compassionate doctor who loves a laugh" in an interview with TV Week, but she hinted at her past when she explained that Bree was "in need of a fresh start" and jumped at the job opening at Northern Districts Hospital's emergency department.
More car drama is on the way in Home and Away, as at least one Summer Bay resident is involved in a car accident, and we meet another new character.