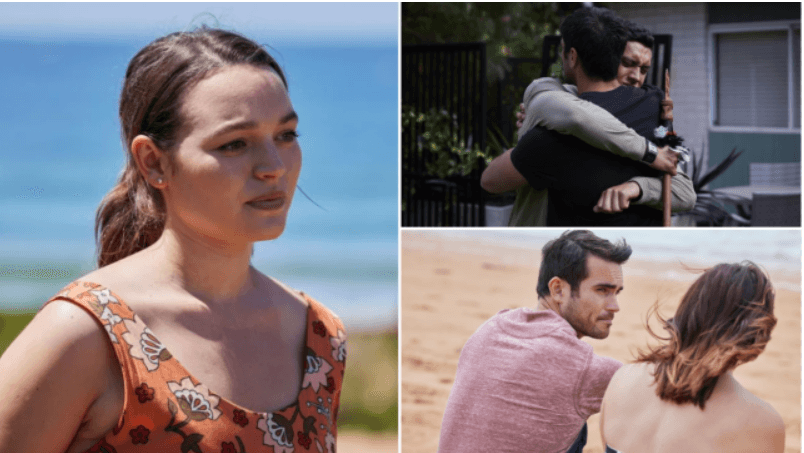 This week on Home and Away, Cash (Nicholas Cartwright), who can't get through to Jasmine on the phone, quickly worries about her safety after she doesn't arrive home as expected. After a full day passes and Irene (Lynne McGranger) is unable to reach her, Cash decides to go ahead and file a missing person report.
When Chloe (Sam Barrett) calls Theo (Matt Evans) from New Zealand and informs him that they are finished, Theo is left speechless. Fortunately, Kirby (Angelina Thomson) is with him when he hears the news, and she advises turning his sorrow into a songwriting session. Is there a spark between the two as they collaborate to make beautiful music?
The following is the Home and Away schedule for the week starting on Monday, September 5.
Cash fears the worst and reports Jasmine missing
Cash is eager for Jasmine to return from the farm because he has planned a romantic evening in which he intends to pop the question. He is, however, left pacing in his suit and holding the chilled champagne. She is missing. Cash starts to worry that she's in trouble when she won't return any of his calls. Radio silence results despite Irene's attempts to contact someone. The two decide to wait a little longer, but after more than a day passes without Jasmine responding to their calls or texts, Cash decides it's time to file a missing person report.
Theo and Kirby bond after an unexpected heartbreak
Theo's world has been turned upside down since taking over as Lyrik's lead singer, but the experience has been marred by the absence of his girlfriend Chloe. He tries to contact her, but she has vanished without providing an explanation. Without her, he completes his first performance and gets ready for band practice the following day with Kirby. Then Chloe calls, but she has bad news to deliver to him. After being left speechless, Kirby counsels him to channel his suffering into songwriting, and the two immediately start writing an epic new song. Is a new romance in the works? There's a spark between the two.
Justin is dismayed to discover Theo could be on the road for months
After seeing Theo perform with Lyrik at Salt, Justin has developed a newfound sense of stage parent pride. He and Leah are moved by his singing and acknowledge that Theo has discovered his true calling in life. But Justin's illusion is shattered when he overhears Eden and Remy discussing their upcoming shows the following day—it sounds like they'll be traveling for months! In addition to missing Theo, Justin will also have a hard time finishing his apprenticeship given this major new commitment.
Xander can't stop his impulsive behaviour as his trauma continues
After admitting that he has been having trouble dealing with the trauma he experiences while working as a paramedic, Xander recently decided to seek counseling. On the advice of his counselor, who claims that exercise will improve his mental health, he goes to the gym. Cash is encouraging and demonstrates the ropes for him, but it quickly becomes apparent that working out won't be enough to ease his problems. Later, Xander's memories of the trauma still plague him, and he can't help but revert to his old coping mechanisms, asking his tattoo artist to visit the apartment late that night to give him another spontaneous tattoo.
Rose plays a dangerous game with Tex after discovering the truth
Rose has been perplexed by Tex's abrupt absence, and the situation only gets stranger when she finds out that he abruptly quit his job at the caravan park without giving any notice. She remembers Tane warned her about him and goes to find him again as she starts to piece things together. What does he know that she doesn't that she demands answers to? Eventually, Tex shows up again, and Rose makes the decision to look up his license plate. She later learns his real name and his connections to the bikers. She acts as though nothing is wrong and thinks quickly, but what is she really planning?
Alf helps a stir-crazy Roo to find her passion again
After completing her recovery from the kidney transplant surgery and arriving back in the Bay after spending some time in Merimbula, Roo has found herself with a lot of free time. Marilyn offers advice on possible hobbies for her to pursue, but Roo wants to do something more significant. Marilyn makes an effort to persuade her to take in a few quiet days by preparing a picnic hamper for her to eat lunch and read on the beach, but Roo soon starts to get restless. Alf suggests his daughter return to teaching since she loved that job after observing her difficulties. Roo feels inspired and decides she won't work in a classroom again, but she has something else in mind.
Bella reveals she's never returning to the Bay
When the biker gang starts targeting Tane and the Parata family, Nikau breaks up with Bella and tells her not to return. He has been patiently waiting for Bella to return home after she left for a three-month work assignment in New York. When Bella tells Mackenzie the news, she is astounded, and when Dean learns of it, he rushes to ask Nikau what he is up to. But Nikau stubbornly tells Dean to mind his own business and refuses to say why he dumped Bella. Later, when Dean calls Bella to check on her, he finds out that she has no intention of ever returning to the Bay.
Tane is captured after breaking into bike headquarters
Rose decides enough is enough and confronts Tane after learning Tex's real name and his connections to biker gangs. She won't leave until he fully discloses his knowledge to her. Rose asks Tane if he would be willing to go undercover even though she can't guarantee his safety after Tane reveals the money laundering schemes Tex and Marty are running. Later that day, we witness Tane being dragged up to Marty by bikie headquarters security after pledging to do whatever it takes. Where is Tane going?